Simple Centerpiece Idea For Your Thanksgiving Aesthetic
Looking for centerpiece ideas for your Thanksgiving or Friendsgiving table? Try this super simple centerpiece idea to complete your Thanksgiving aesthetic.
I just love a beautiful centerpiece, don't you? It makes a table feel special.
No matter how elaborate or simple a centerpiece is, it is a necessary component of any dining table.
Whether you buy or DIY a centerpiece, don't skip this step when decorating a table.
And if you are attending Thanksgiving or Friendsgiving at a friend or family's home, offer to bring the centerpiece.
It's a nice touch!
If you've been following me for a while, you know how much I LOVE making centerpieces.
And fall is one of my favorite times of year to make them too.
It's so fun to change up autumn color palettes and fall flowers in different arrangements like THIS one and THIS one.
Whether I cut flowers from garden, pick them up from the market, or go totally faux, centerpieces are my jam!
And have I got a simple one for you to try for this year's Thanksgiving aesthetic!
(Posts on stacyling.com may contain affiliate links. Click HERE for full disclosure.)
What is Thanksgiving Decor
Thanksgiving decor refers to the various decorative elements and items used to adorn homes, tables, and living spaces during the holiday season.
These diy Thanksgiving decorations are intended to create a warm and festive atmosphere that reflects the spirit and traditions of the holiday.
Common Thanksgiving decor ideas include:
Overall, Thanksgiving decoration ideas should create a warm and inviting atmosphere that pays tribute to the spirit of gratitude, family gatherings, and the beauty of autumn as it helps set the mood for a memorable and festive gathering.
About Thanksgiving Decorations for the Table
Thanksgiving decorations for the table are a delightful way to infuse the dining experience with festive charm and warmth.
From elegant table runners and textured placemats to seasonal dinnerware and gleaming candleholders, the right decorations can transform your table into a Thanksgiving masterpiece.
Incorporating earthy elements like mini pumpkins, gourds, and vibrant fall foliage arrangements adds a touch of nature's beauty to your setting.
Don't forget the essential finishing touches: personalized place cards, cozy napkin rings, and perhaps a scattering of autumn-themed confetti to tie the whole look together.
These Thanksgiving decor ideas not only enhance the visual appeal of your table but also set the stage for a heartfelt celebration of gratitude and togetherness on this special day.
The Importance of a Dining Table Centerpiece for Thanksgiving
A Thanksgiving centerpiece is an essential element of the table, serving as the heart of the holiday feast. It adds warmth, charm, and a sense of occasion to the gathering.
Beyond its aesthetic appeal, it embodies the spirit of gratitude and family togetherness, creating a focal point where loved ones can come together to share stories, enjoy a special meal, and reflect on the blessings of the year.
Whether it's a traditional cornucopia or a modern, personalized creation, the centerpiece plays a vital role in making Thanksgiving memorable and meaningful.
Moreover, a thoughtfully designed Thanksgiving centerpiece can reflect the essence of the holiday, with elements like seasonal flowers, foliage, and symbolic items like pumpkins and candles.
How to Make a Flower Centerpiece in a Pumpkin
If you are looking for some Thanksgiving centerpiece ideas with a rustic vibe, you've got to try this simple DIY.
I've made this type of centerpiece a few times and always love how it turns out. You can make them super simple like the one I'm sharing today or more elaborate depending on what type of flowers you use.
For this table, I'm going with a less-is-more approach. But you can do so much more with fresh-cut flowers either from your garden or the market.
But First, A little back story about my first pumpkin and flowers centerpiece…
Several years ago, I made a gorgeous centerpiece for my Thanksgiving aesthetic and it was a huge hit.
I spent almost ALL DAY making it the day before Thanksgiving that year. Because I picked up the pumpkins so late in the season, the nursery gave them to me for free.
And I purchased fresh flowers from the market.
Now I realize this picture does my arrangement no justice because it is so old, but trust me…it looked so amazing at the time! I even tucked in a few gorgeous leaves from my oakleaf hydrangea.
So I hosted Thanksgiving the next day and my guests loved it.
Anyway, we were leaving the next day for Vermont to get an early ski weekend with some friends and their kids.
Chris and I packed the family up and we left first thing Friday morning. When we returned on Monday, the house SMELLED SO BAD!!!!
Like…really bad.
And when I say it was bad, you couldn't even breathe it in bad because you'd get physically ill.
I immediately ran to the dining room and discovered the pumpkins rotted over the weekend, leaked, and totally ruined my wood farmhouse table.
UGH!!!! It was such a mess!
I learned a BIG lesson from this first one.
Always, always, ALWAYS protect the surface underneath if using fresh pumpkins.
Because trust me when I tell you, rotting pumpkins are NOT worth the risk.
So if you make this pumpkin and flowers centerpiece, be sure to protect the table beneath and keep and eye on it after the event.
But I digress.
Now let's make a simple pumpkin and flowers centerpiece for the dining table.
Complete Your Thanksgiving Aesthetic With This Simple Pumpkin and Flowers Centerpiece
So it's been a while since I've made one of these and thought it was a good time to share it again.
It's not only perfect for a fall dinner party, but it is even more festive for Thanksgiving or a Friendsgiving dinner.
Supplies Needed
Directions to Make a Simple Pumpkin and Flowers Centerpiece
For my table, I decided to go with 3 mid-sized sugar pumpkins.
I was between doing one large pumpkin centerpiece vs. the three, but the mums I found weren't large enough so I went with three smaller ones.
See what works best for you and your table.
A few notes to keep in mind…
If you opt to do an arrangement, instead of mums as I did here, you can use floral foam like I did in THIS arrangement or you can use a vase, mason jar, or something similar.
But it really depends on the size of your pumpkin and what type of arrangement you decide to do.
If you want a more neutral-looking tablescape, consider white pumpkins and gourds or painting the pumpkins to coordinate with your Thanksgiving aesthetic.
Thanks so much for dropping by! I hope you enjoy a wonderful Friendsgiving and Thanksgiving Day!
More About Making a Simple Centerpiece for Thanksgiving
Have you ever made a pumpkin centerpiece before? Do you make your own centerpiece for Thanksgiving or Friendsgiving? How do you like to make yours? Do you have any tips you'd like to share? would love to know more in the comments below.
And don't miss joining my Gardening DIY and Decorating Community on Facebook for more chatter. And follow along there and on Instagram as well. There are behind-the-scenes daily things that I share on Instagram that don't make it to the blog. Would love to see you there too!
If you prefer to binge-watch Bricks 'n Blooms on TV, we go more in-depth with tours and posts on my YouTube channel. Would love to hang out with you there!
And… If you're catching up on blog posts you may have missed, be sure to sign-up to get my newest posts via email to stay up to date with everything that's happening here on the blog and more.
More Thanksgiving Ideas
If you are looking for more Thanksgiving Day ideas and inspiration, check out these posts. From hosting gifts to table decor, food, and menu ideas, I've got you covered.
Shop This Post

Wait Until You See These Friendsgiving Table Decor Tour!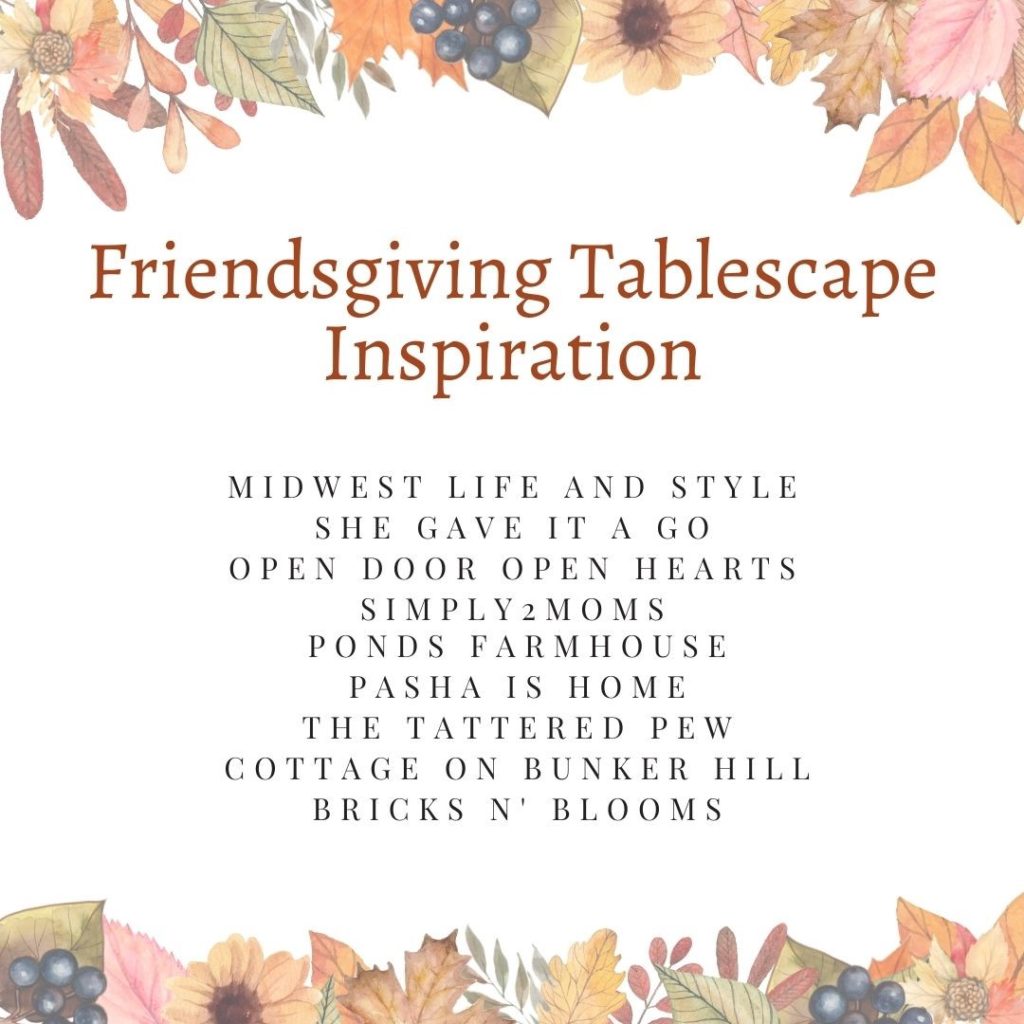 Midwest Life and Style | She Gave It A Go | Open Doors Open Hearts | Simply 2 Moms

Ponds Farmhouse | Pasha Is Home | The Tattered Pew | Cottage On Bunker Hill | Bricks n' Blooms
Sign Me Up!
Sign up for my free newsletter to get blog posts, seasonal tips, recipes, and more delivered straight to your inbox!
Plus, get free VIP access to my Resource Library where you'll find insider freebies not readily available to the public.
Pin and Save It For Later
Looking for some fun Halloween party ideas? Wait until you see these sophisticated adult Halloween party ideas. Halloween isn't just for kids anymore! It's the perfect occasion for adults to embrace their inner child while adding a touch of sophistication to the spooky festivities. Whether you're hosting a Halloween gathering for friends or family, here…
Thank you so much for following along.
Enjoy a beautiful day! xo
About Me
Want to learn more about me?
Get the inside scoop about my background, education, and experience, as well as why I started blogging.
Let's Connect!
If you like this post, please follow me @bricksnblooms on Pinterest, Facebook, Instagram, and TikTok. Subscribe to my YouTube Channel. Or join my Facebook Group.