5 Creative Red White and Blue Patriotic Tablescapes
Looking for patriotic tablescape ideas? Wait until you see these beautiful and creative ways to decorate a table for a red white and blue dinner party.
With the 4th of July quickly approaching, it's time to start decorating with some red, white, and blue.
Lately, I've been gravitating to earthy, organic neutrals with my decorating style, so adding a splash of patriotic decor was an interesting challenge for me.
And today, I'm sharing my version in the Patriotic Tablescapes Blog Hop hosted by my talented friend, Kristin of White Arrows Home.
We all have different decorating styles so there is much to see, so be sure to check out all of the spring tablescape inspiration at the end of this post.
(Posts on stacyling.com may contain affiliate links. Click HERE for full disclosure.)
How to Create this Simple Patriotic Tablescape Idea
Designing a patriotic tablescape is pretty simple, particularly if you have some red, white, and blue items on hand.
And it does not have to be American flag items either. Think blue, white, and red dishes, linens, flowers, and food colors to decorate your table.
For me, the more organic items used, makes a table feel more cozy and natural.
Table Decorating Pro Tip: Pick up dining accessories that you can re-use over and over again when you are out shopping. I create a lot of different looks using the same basic pieces. Be creative and most importantly, have fun with it!
Decorating the Table with Red, White and Blue Layers
Since I love to leave my farmhouse wood tables exposed, I used two American Flag buntings as the table runner.
I have a bunch of these buntings that add to my deck railings or under the front windows to celebrate our freedom.
And if you've been following me for a while, you know how much I love floral centerpieces.
Whether they are made with live flowers or faux florals, every table NEEDS a pretty centerpiece.
And while I love to cut flowers from my garden, I didn't have the colors needed for this look.
So I added this gorgeous centerpiece that I made using faux greens and these real touch peony florals in a vintage wood crate.
Setting the Table
When setting a cozy table, the key is layering placemats, chargers and plates so there is texture, dimension and warmth.
I love these cedar branch placemats that I use as a base layer in almost all of my tablescapes. If you can't find them shopping, try using a 12″ boxwood wreath instead.
But the greenery vibes well with my garden-style decor and guests love the organic touch.
On top of the placemats, I added rattan chargers that I love to use all the time too.
They add lots of warmth and texture it to the table.
Next layer is the dinner plate which is from my casual, everyday dishes.
Depending on my mood or what I'm going for, I will either use my everyday plates or my Lenox.
I would love to have holiday or seasonal specific plates, but I do not have storage space for them so I prefer to use what I have and add the small decorative touches.
On top of the dinner plate, I like to layer a pretty cloth napkin.
For this tablescape, I wanted something patriotic and colorful, so I chose red linen napkins.
Then I added the salad plate. I layered a salad plate on top of the napkin.
And the top of the salad plate is where I like to get creative, through either decor, a natural element, or food.
Instead of using some sort of decor item, I made a berry salad and topped off the plates.
This is a fun way to decorate the table because it's ready when guests arrive.
And we're going to eat it anyway!
More Summer Entertaining Ideas
Looking for some summer meal and beverage inspiration?
Check out these recipes for your next summer gathering.
Thank you for touring my patriotic tablescape and I hope you found it inspiring.
For more inspiration, hop over to my friends' blogs and check out their patriotic tablescapes.
Follow the Tour
Rachel | At the Ponds Farmhouse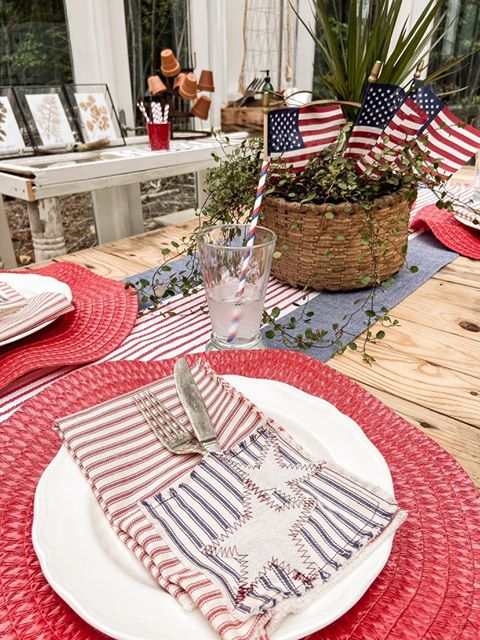 Kim | Shiplap and Shells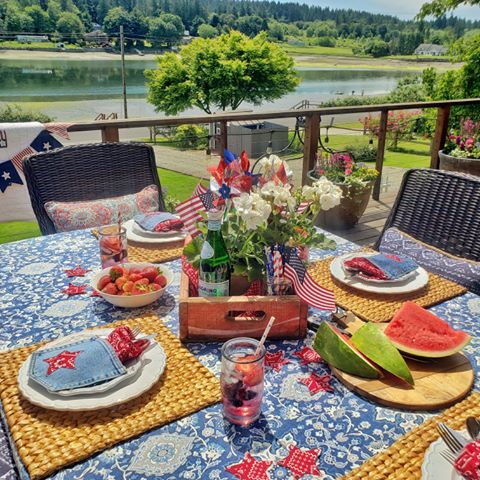 Ann | Dabbling & Decorating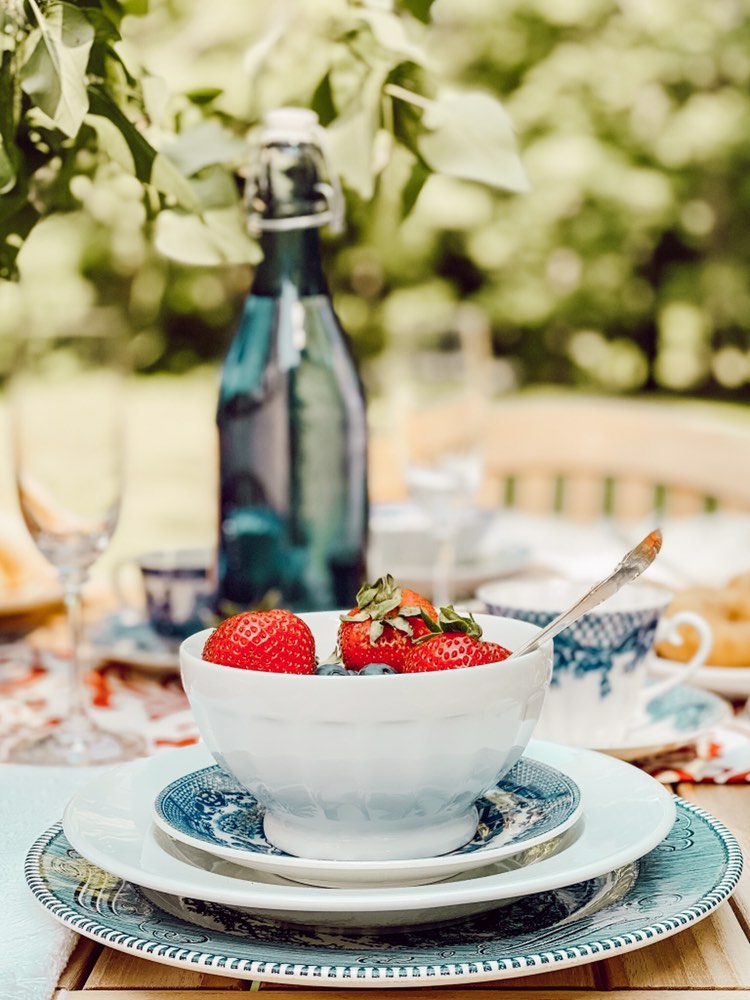 Kristin | White Arrows Home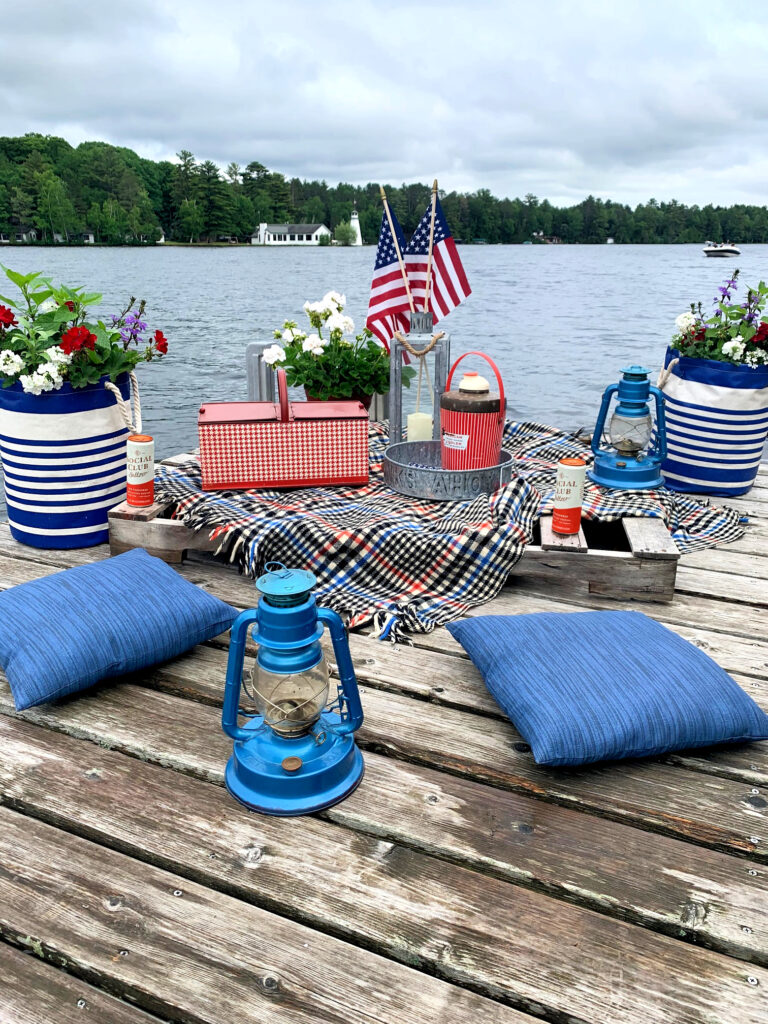 Sign Me Up!
Sign up for my free newsletter to get blog posts, seasonal tips, recipes, and more delivered straight to your inbox!
Plus, get free VIP access to my Resource Library where you'll find insider freebies not readily available to the public.
Thank you so much for following along.
Enjoy a beautiful day! xo
Let's Connect!
If you like this post, please follow me @bricksnblooms on Pinterest, Facebook, Instagram, and TikTok. Subscribe to my YouTube Channel. Or join my Facebook Group.