Rustic Fall Tablescape Idea
With Thanksgiving quickly approaching, I like to do a few dry runs to get the creative juices flowing and figure out what kind of fall tablescape I want to use. This week, I created a rustic, cozy, and casual tablescape inspired by my gardens. With the growing season coming to a close, I'm bringing the outdoors in with this fall garden-inspired tablescape by layering lots of natural elements, textures and neutrals. 
(Posts on stacyling.com may contain affiliate links. Click HERE for full disclosure.)
Rustic Fall Tablescape Idea
After decorating for fall, I had some decor items leftover that I decided to use in this tablescape. Do you have items laying around that you can use?
For this particular tablescape, I am inspired by my gorgeous centerpiece with rust-colored roses that you've probably seen in some of my recent blogs and social media shares. I LOVE this centerpiece and wanted to create a garden-style fall tablescape to coordinate with it.
When approaching any tablescape, it is important to consider whether you want to keep your table covered or exposed. For me, I love my wood dining room table because it looks rustic, worn and has that farmhouse feel. Since I love that casual feel and leaving my table exposed, I started this tablescape with a neutral table runner to soften the look of the wood and add some texture. On top of the runner, I layered my favorite wood Pier 1 candlesticks to flank my fall centerpiece.
The Tablesettings
When setting any table, it is important to layer each tablesetting so it has some life and does not look flat or boring. Since I am creating a garden-inspired fall tablescape, I started with my favorite green cedar branch placemat from Pier 1 (not sponsored). I just love how this placemat greens up each place setting and sets off the cozy layers!
After placing the cedar branch placement, I added a dark brown rattan charger that I ordered from Amazon (paid link). These chargers are a great deal because they come four in a pack and add a lot of texture to my table settings. And I love how the charger's color and texture bring out the details of my casual dishes.
With this rustic fall tablescape, I decided to use my casual everyday dishes instead of my Lenox. The detail on it is so pretty, it adds a casual vibe and I love how it pairs with the rest of my fall tablescape decor.
On top of the dinner plate, I added a gold textured linen napkin. I played around with a few different colored linens but ultimately settled on the textured neutral.
To add another rustic element, I opted to use a wood disc I found from Etsy instead of a salad plate. Since the wood discs are cut from real wood, this natural element helps make each place setting come alive. They add a rustic texture with a cozy, casual and elegant vibe.
On top of the disc, is a fall foliage sprig with twigs, leaves, acorns and pinecones. I had some of these faux sprigs leftover that I did not use in my decor and think they pair well with my centerpiece and hutch.
A Note about Real vs. Faux Natural Elements in a Tablescape
Could you use more real natural elements on your table? Absolutely! But keep in mind that some natural elements, like leaves, dry out very quickly, so don't add them until just before your guests arrive.
I learned this the hard way a few years ago when I pulled the best Oak Leaf Hydrangea leaves from my garden several hours before the event to use on the table. They started drying up and curled about 45 minutes before guests arrived. So I had to go back out and quickly pull a few more that weren't in as good a shape as the first batch.
What Do You Think?
Are you hosting Thanksgiving or any dinner parties this fall? I hope this fall tablescape idea inspires you to create something special for your guests. I'm not sure whether I will use a rustic tablescape this year yet, but am working on another fall tablescape idea for next week's blog. Stay tuned!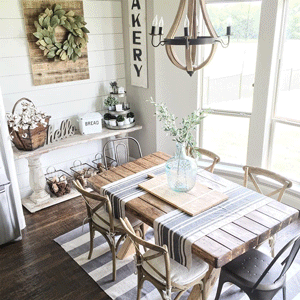 How do you like to set your tables? Send me pics of your designs or let me know what you think in the comments here. And be sure to follow me @bricksnblooms on Pinterest, Facebook and Instagram where I share lots of the behind-the-scenes of my home, garden and personal life.
Subscribe to the blog to gain free access to special home and garden content not available to the general public.
If you like this post, I would love for you to share it on Pinterest. I've created the above custom pin for this post.Thank you so much for following along and I hope you enjoy a wonderful holiday! xo