How to Arrange a China Cabinet Hutch in 7 Easy Steps
Looking for ways to arrange a china cabinet and hutch? Wait until you see how to decorate shelves with an uncluttered cozy look.
I get it.
Styling a china cabinet and hutch is not easy and is a little intimidating.
To be forthright, I struggled with my china cabinet display for years.
I had a red spode collection that wasn't very large and couldn't figure out how to make it look right so it was visually appealing.
Eventually, I came up with THIS design and loved it for a while.
But I love how it looks now!
And that's because I now display my collection of fine china.
Whether you have a collection of fine china, ironstone, or other decor, how do you display it without looking like a cluttered, jumbled mess?
Wait until you see how easy it is to display a collection of something you love!
(Posts on stacyling.com may contain affiliate links. Click HERE for full disclosure.)
Winter DIY Home Decor Blog Hop
This post is part of a winter DIY blog hop that my good friend Jen from Midwest Life and Style is hosting.
It's an amazing round-up of winter DIY home decor projects so make sure you check out all of the additional DIY winter inspo at the end of this post!
If you are coming from Amy's at Amy Sadler Designs, welcome to my blog! I love all of Amy's incredible decorating tips and she has a gorgeous home.
And if you are new here, I'm Stacy, a self-taught master gardener who lives and gardens in northern New Jersey, zone 6a.
A year ago, we moved to a beautiful 1850 Farmhouse with 10 acres of gardens, sculptures, and statues.
I've been gardening for over 20 years and enjoy helping beginner gardeners find their inner green thumb, as well as discover a love for all things plants and flowers. I love to bring the outdoors inside my home too.
I hope you enjoy visiting my home today and would love for you to come back so we can grow stuff and create beautiful spaces together.
About China Cabinets and Hutches
China cabinets are typically used for dining table decor storage and display.
For some, it's a catchall for things they use to entertain guests in the dining room. And for others, it's more for display than storage.
Whatever the purpose is, china cabinet shelving can be a daunting task to style.
But learning how to set up a china cabinet is actually pretty easy once you learn the basics.
What Should Be Displayed in a China Cabinet?
Whenever I'm asked what should be displayed in a china cabinet, the answer is simple.
Everything you need to entertain guests for dinner.
Of course, you can add other items, but if your china cabinet is for storage like mine?
It's much easier to use it for both decor and storage.
From dinnerware to stemware, table decor, and more, the possibilities of what should be displayed in a china cabinet are endless.
To learn more about what can be displayed in a china cabinet hutch, CLICK HERE.
Supplies Needed to Arrange a China Cabinet
Not much is needed to arrange a china cabinet and hutch. But you should take some time to clean everything well before displaying items on open shelving.
In general, here's what you need to arrange open shelves
China cabinet and hutch with shelving
Dust rag
Wood cleaner (if applicable)
Dinnerware or other table decor to display
What Should I Display in My China Cabinet?
I struggled for several years with how to arrange a china cabinet and hutch.
And it wasn't for lack of trying.
To put it simply, I was not displaying my best things.
What does that even mean?
You know that fine china you have tucked away for a special occasion that you rarely use because almost no occasion is special enough?
Start there.
Many of us have these beautiful collections of things that we keep hidden away.
Because we are afraid of damaging them. And for many years, I was guilty of doing that.
So, I'm not sure who needs to hear this today.
But get your special things out of storage and display them proudly on your open shelving.
Whether it's in your dining room.
Your living room.
Kitchen.
Or wherever.
But the point is, don't keep it stored away because it's delicate and you are afraid of damaging it. Life's too short not to enjoy our special things.
Every single day is a special occasion.
Use the fine china.
Enjoy the ironstone.
You got this.
How to Arrange a China Cabinet and Hutch for Display
Once you know what you want to highlight, here's how to arrange your favorite collection with an uncluttered and cozy look.
Start with a clean slate. Remove everything from the shelves and clean them.
Choose your best pieces or start with a collection.
Start with the heaviest and tallest items first grouping in odd numbers and varying the heights.
Then layer pieces from front to back.
Stack place settings if storage is an issue. By stacking dishes, plates and saucers, you'll get more storage space and easier accessibility to dinnerware pieces.
Leave some visual space between items so it looks less cluttered and more visually appealing. But be sure to include different size pieces for more visual interest.
Add live or faux plants, flowers and greens to add seasonal color, texture and dimension.
Want more shelf styling tips? CLICK HERE.
How Do You Hold Dinnerware on a Shelf?
If you want to learn how to display china in a china cabinet, I like to use plate holders.
Especially when I am arranging open shelves with dinnerware.
THESE plate holders are pretty inexpensive and you can find them almost anywhere.
They come in a variety of sizes and you can usually buy a few in a pack.
How I Arranged My China Cabinet and Hutch Shelves
I like to decorate my china cabinet shelves with a mix of my Lenox.
Since I have two sets, one from my wedding and the other from my grandmother, I like to incorporate both in the design and get more storage out of the display.
Layering items from front to back adds more visual interest, texture and dimension.
So I started with platters, dinner and salad plates for the back row, then layered mugs with saucers in front.
When I was done, I felt like it looked a little boring.
So I added a gravy boat, soup tureen and bowl stacked on dishes to add a little more interest.
Doesn't it look a little better than it did without those items?
How to Decorate a China Cabinet and Hutch for the Seasons
Once the china cabinet and shelves are arranged to your liking, add organic decor for seasonal touches.
For example, in winter I love to add pinecones or berries to winter greens for a cozy look.
And for the holidays, I'll ramp it up with reds or other baubles.
For spring and summer, I tuck in a few terracotta pots with plants for a cute cottage look.
But those are just a few of the things I love.
If you enjoy other things, tuck in some of those items to bring your personality to the display.
To learn more about what I used to decorate the china cabinet hutch for spring, CLICK HERE.
And that's it!
I love how clean and organized the china cabinet display looks, don't you?
For more home and garden organizing tips, click here.
Thanks so much for dropping by my blog today.
Watch the Video!
Follow along as we decorate my china cabinet and decorate it for winter.
And see how this collection comes together in real-time!
Next up on the Winter DIY home decor blog hop is my good friend Kelly from the Tattered Pew.
Winter DIY Home Decor Blog Hop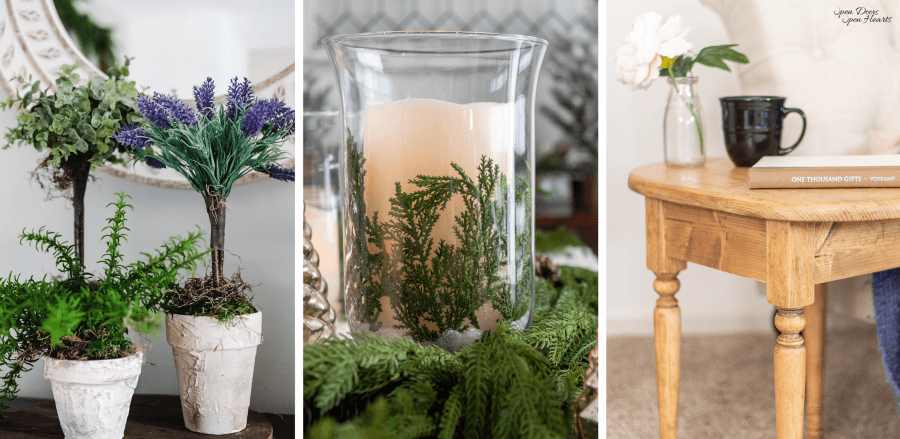 Cottage On Bunker Hill | Midwest Life And Style | Open Doors Open Hearts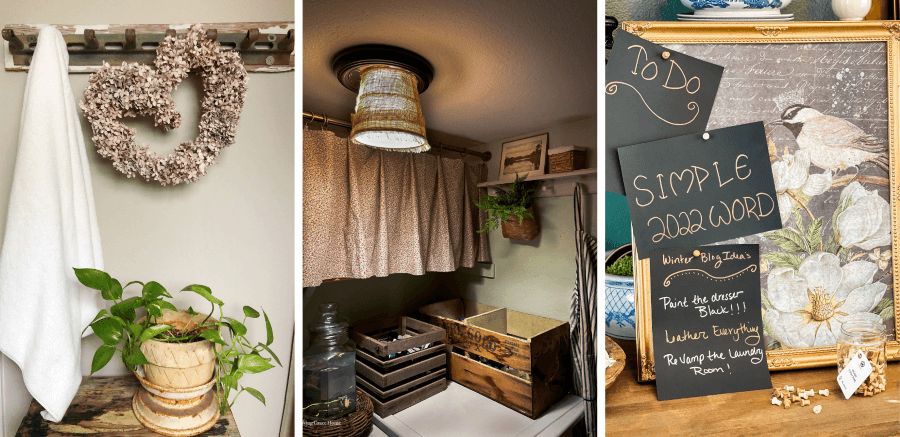 Vintage Home Designs | Loving Grace Home | Amy Sadler Designs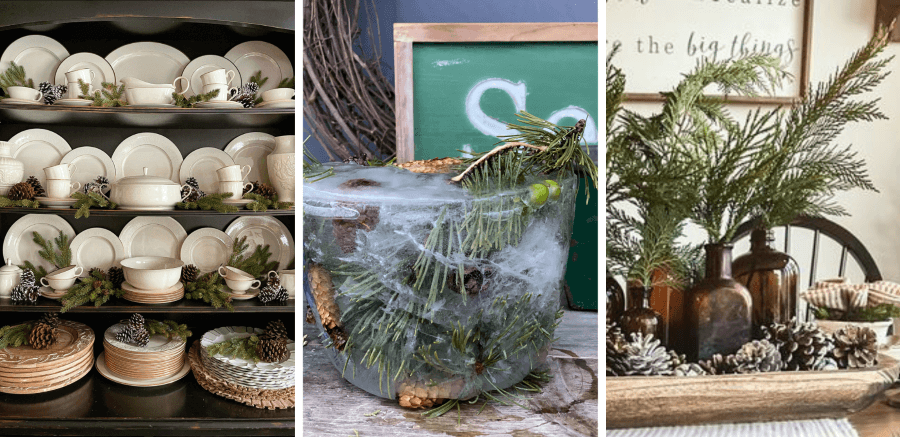 Sign Me Up!
Sign up for my free newsletter to get blog posts, seasonal tips, recipes, and more delivered straight to your inbox!
Plus, get free VIP access to my Resource Library where you'll find insider freebies not readily available to the public.
Pin and Save It For Later
Thank you so much for following along.
Enjoy a beautiful day! xo
Let's Connect!
If you like this post, please follow me @bricksnblooms on Pinterest, Facebook, Instagram, and TikTok. Subscribe to my YouTube Channel. Or join my Facebook Group.