Neutral Fall Tablescape Ideas
Since I am not sure how I want to decorate my Thanksgiving table yet, I've been working on a few different tablescape themes to come up with a final concept.
This week, I created two neutral fall tablescape ideas that are elegant, yet cozy and casual. I love to bring the outdoors in with my interior decor, so these tablescape ideas are garden-inspired with layers of natural elements, textures and neutrals.
(Posts on stacyling.com may contain affiliate links. Click HERE for full disclosure.)
Neutral Fall Tablescape Ideas
If you've been following along, you know that my fall dining room decor centered around some beautiful rust-colored roses in my centerpiece. (In case you missed these blog posts or want to see how gorgeous these roses are, you can read them here and here.)
Now that we are moving into late fall, I am starting to transition my rust-colored fall decor to a more neutral-style in preparation for the holidays. Whenever I start transitioning my decor from season to season, I like to pare down to neutrals so it's easier to look at my home with fresh eyes so I can start planning for the next season.
Since I want to start toning down the fall tones, I wanted to create some tablescape ideas that focused more on neutrals. To achieve this, I started removing all of the rust-colored faux stems and roses from my dining room decor and set them aside to make way for greens, creamy whites and other textured neutrals.
Neutral Fall Centerpiece Two Ways
Starting with a bare wood table, I wanted to use this beautiful Pier 1 Jute table runner that as the base layer for both centerpieces. (Note: this theme would also work if the table had a white, cream or other neutral table cloth.) In addition to each centerpiece, I used my favorite Pier1 wood candlesticks that I purchased on clearance a few years ago.
For each centerpiece, I gathered pumpkins, faux greens, berries and florals that I had laying around. These items (aside from the real pumpkins I tucked in) are decor items that I've been accumulating through the years. If you don't have any on hand, they are easy to find at any Michael's, Hobby Lobby, Joann Fabrics, Amazon or other craft store. I try to pick the same or similar colored items each year so I can coordinate them with what I already have. To learn more about what I look for when purchasing faux greens, click here.
When hosting Thanksgiving, one of my favorite things to do is to create a beautiful centerpiece. I played around with two different styles: one with and one without flowers. Which one do you like best?
Neutral Fall Centerpiece Idea with Flowers and Pumpkins
For this centerpiece idea, I gathered a mix of real and faux pumpkins. It is best to work in odd numbers when designing, so I used five good sized pumpkins in this tablescape.
To increase the height on some, I placed 2″ wood discs beneath them. After arranging the pumpkins, I tucked these creamy faux cabbage roses between each. In lieu of these flowers, I could have used real of faux neutral colored mums. Since I did not have those on hand, I went with the roses.
To top off the centerpiece, I tucked in some faux fern greens, berries and moss to add some textural greens.
Neutral Fall Centerpiece Idea with Pumpkins and Greens
After playing around with the first centerpiece option, I took a "less is more approach" and subtracted some of the pumpkins and all of the flowers. I raised each of the three pumpkins up off the table with the same 2″ wood discs and rearranged the textured greens and berries.
The Tablesettings
Have I mentioned how much I love Pier 1 and their dinnerware items? They are really good quality and if you can pick things up on sale, they can be mixed and matched with different tablescape themes.
When creating any tablescape, it is important to use layers. Layering colors, patterns and textures gives each tablescape a warm and welcoming feel that exudes personality. Without layers, table settings look dull and flat.
Although I created two different centerpieces, I used the same table setting for both. For these tablescapes, I mixed both Pier 1 products and my Grandmother's Lenox. To start, I used this Burlap Placemat, then added this beautiful pale Wood Charger. Don't you just love the detail on that wood?
On top of these Pier 1 pieces, I layered a neutral Lenox dinner and salad plate on top of each other. Instead of using a decor item to top off each plate, I added these beautiful Sand Pane Napkins and these Natural Carved Wood Napkin Rings.
What Do You Think?
Which neutral fall centerpiece idea do you like better? I hope these tablescape ideas inspire you to create something special for your guests. I'm not sure if I will go with something like I did last year, a neutral fall tablescape or this rustic fall tablescape yet, but I will let you know soon. Stay tuned!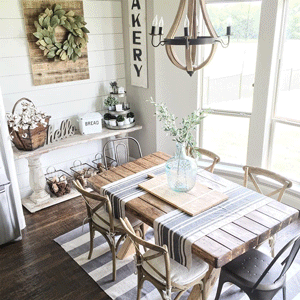 How do you like to set your tables? Send me pics of your designs or let me know what you think in the comments here. And be sure to follow me @bricksnblooms on Pinterest, Facebook and Instagram where I share lots of the behind-the-scenes of my home, garden and personal life.
Subscribe to the blog to gain free access to special home and garden content not available to the general public.
If you like this post, I would love for you to share it on Pinterest. I've created the above custom pin for this post. Thank you so much for following along and I hope you enjoy a wonderful holiday! xo